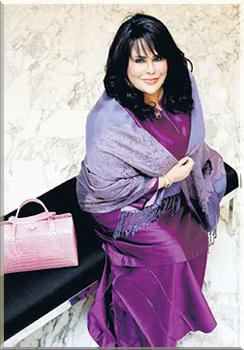 Do your bit for charity by attending the diva's series of concerts, writes Hizreen Kamal. Her intentions are noble — to assist 15 poorly maintained tahfiz schools in the country. And the only way evergreen singer Datuk Sharifah Aini believes she can help the underprivileged is to put her popularity and golden voice to good use by having a series of charity mini concerts which began late last year under the Sharifah Aini & Friends banner.
Having been a performer for more than 40 years, the singer can smile as the first concert of the series managed to rake in a profit of RM15,000. "Some may say that it is a small amount, but I am grateful for every sen that I make," said Sharifah, who performed pro bono.
The mini concert saw her sharing the stage with singers Anuar Zain and Adibah Noor at the grand ballroom of the Concorde Hotel Kuala Lumpur. Organised by her company Seri Dewi Production Sdn Bhd and Lime Events Management at a cost of RM150,000, the event held in December last year drew a crowd of 400.
Recently, Sharifah presented the RM15,000 cheque to Ustaz Aminurrassid Al Hafiz, the headmaster of Maahad Darul Huffaz in Puchong, Selangor, which was witnessed by 20 pupils from the school. She said that event organising is a different ball game altogether from performing. "It is very tiring, especially when one has to oversee every detail from the beginning until the end. I had no idea it is this stressful until now," she said, adding that her involvement in charity shows in the past was that as a performer, not as an organiser.
And just as the dust from the first dinner concert settled, this Singapore-born singer announced the second concert to come. Themed Up Close And Personal With Datuk Sharifah Aini, this charity dinner show will be held on April 17 at 8pm. There will not be any guest artistes this time around. It's just the audience and me," she said, explaining that with a solo performance, she would be able to cut down costs and collect more for charity.
The venue remains at the grand ballroom of the Concorde Hotel Kuala Lumpur — only this time around the audience will be feted to an English dinner instead of the 10-course Chinese dinner. However, this does not mean that Sharifah Aini & Friends ceases to exist. "The series will remain. It is just that I feel that I should kick off the year with a solo mini concert instead," she said, adding that she had received feedback from her fans who had attended the December mini concert, expressing their disappointment over her somewhat brief performance on stage.
"Of course, when I invite guest artistes to perform with me, I let them take centerstage. So, I think it's time that I make up to my fans with Up Close And Personal With Datuk Sharifah Aini," she said. The diva will be singing between 25 and 30 songs for 150 minutes. "It will definitely be more intimate. I will also get the audience to sing along with me on stage. We are looking at 35 tables with an English dinner menu this time around," she added.
Tickets are priced at RM6,500 and RM3,500 per table, with the proceeds going towards Rumah Ijabah Anak Yatim & Al Hafiz in Subang Jaya, Selangor. Sharifah is also taking song requests for the concert.
The requests are to be sent to limeevent@gmail.com by middle of next month.
For tickets and more information, call 019-348-8054/012-933-2373 or e-mail limeevent@gmail.com