KUALA LUMPUR: DATUK Sharifah Aini Syed Jaafar, who died after a two-year battle with lung fibrosis at 61 yesterday, will be remembered as Malaysia's first lady of song. Such were the tributes of entertainers and music producers who befriended and collaborated with the singing legend throughout her career.
Producer and Malaysian Music Council chairman Datuk Abdul Aziz Abu Bakar said Sharifah Aini's passing marked the end of an era for Malaysian music and described her as a national treasure. He said her legend would live on through her songs that spanned traditional and modern pop genres.
"She was my collaborator during the 1980s when Showmasters organised concerts and roadshows. Working with her was a joy, as she was professional, respectful, punctual, confident and gifted."
Aziz said there would never be another like Sharifah Aini, for she was a national treasure. "Like Tan Sri P. Ramlee and Datuk Sudirman Arshad, she is a Malaysian icon and her legend lives forever."
He described Sharifah Aini as a perfectionist when it came to giving a great show. "She had a fantastic memory, mixed with fans from all over and treated everybody as a friend. Over the years, she kept in touch with friends and fans, and that's the mark of a true entertainer."
He said her songs captivated fans from Singapore, Indonesia and Brunei, making her an international superstar and exemplifying the Malaysia Boleh spirit. "While we grieve, we're comforted that she left with joy and was close to her loved ones. She kept abreast with the country's new talents and supported them."
Aziz said every Hari Raya Aidilfitri, Sharifah Aini's songs would be heard, a testament to her perfectionism and heartfelt singing. Raya will never be the same without her."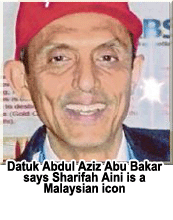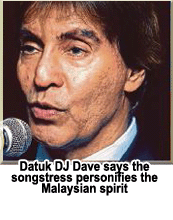 Veteran singer Datuk DJ Dave remembered that Sharifah Aini came into the industry two years before him and they collaborated in shows, such as Dewi Puspa and Hiburan Minggu Ini. "It was a joy to sing with her as she was humble, committed, generous and, above all, optimistic and friendly.
"We last met three weeks ago at her home. Despite being ill, she was her bubbly self and we shared lots of fond memories. She was a star of many talents and knowledgeable about entertainment."
He described Sharifah Aini as a fantastic culinary specialist when it came to traditional Malaysian fare. "I was supposed to visit her again this week, but sadly, she left us."
He said Sharifah Aini was strong-willed and passionate, lived life to the fullest, cared and befriended all Malaysians. "She personified the Malaysian spirit in her superb entertaining ways and her generosity of spirit."
Malaysian Artistes' Association (Karyawan) president Datuk Freddie Fernandez described the death of Sharifah Aini as a sad loss. Fernandez's fellow musicians from the 1970s band The Revolvers used to back up her shows.
"We visited her three months ago and she was in great spirits as she always is. She faced illness with fortitude and was hopeful till the end. Many new artistes look up to her as a mentor, as she gave full support to new talents."
Fernandez said Sharifah Aini's success in releasing more than 100 albums was an unsurpassed feat for a Malaysian entertainer, and her ability to entertain people from all walks of life made her 'the people's entertainer' like Sudirman and Ramlee Sarip.